Fall newsletter
---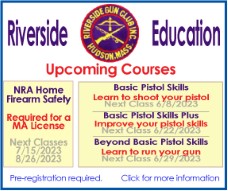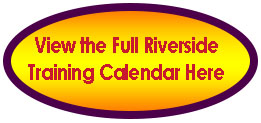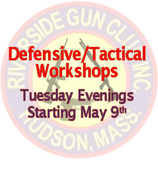 This week, Massachusetts politicians put forth HD 4420, https://malegislature.gov/Bills/193/HD4420 
"an act modernizing firearm laws." This massive piece of legislation re-writes gun laws in the Commonwealth and imposes unprecedented gun-control. 
Every NRA member and gun rights supporter in Massachusetts is urged to contact lawmakers now and tell them to oppose HD 4420.

HD 4420 leaves no stone unturned when it comes to restricting your Second Amendment rights. 
Below are just some of the numerous anti-gun policies in this massive bill.

CLICK HERE for a full breakdown of the bill by Gun Owners Action League.
https://www.goal.org/Lawful-Citizens-Imprisonment-Act

As written, HD 4420:

Institutes a new, broad "Assault Weapons Ban," including firearms already owned by law-abiding citizens.
Bans all federally legally tax-stamped automatic firearms.
Gun bans on possessing any gun, loaded, or unloaded at:
All state, county, and municipal buildings.
All polling places.
Any private property unless the owner has provided express consent or has posted signage allowing firearms on their property.
Mandates Safe Storage laws.
Mandates new training requirements including costly written exams and live fire training.
Mandates registration of all guns and feeding devices.
Mandates reporting of any modifications or new parts to a gun.
Mandates serializing all firearm parts.
Bans anyone under 21 from acquiring or carrying any semi-automatic rifle or shotgun.
Bans anyone under 15 taking part in shooting sports and training.
Places new mandates, protocols, and training requirements on retailers.
The above bullet points are just some of the numerous provisions anti-gun politicians are proposing.

Serving Hudson, Massachusetts and the surrounding communities, Riverside Gun Club was established to advance the protection, propagation and restoration of forest, fish and game for the benefit of hunting and fishing; as well as promote safety and proficiency in archery and the use of sporting firearms.

located in the densely wooded New England countryside and has facilities to support our members whether your interests are competitive shooting, breaking clays, fishing, plinking, sharpening your skills for hunting season or just socializing with other members.

The facilities include:

25yd, 50yd and 100yd Outdoor Ranges for Pistol and Rifle
3 Shotgun Fields for Skeet, Trap and other clay competitions
Outdoor 100yd (90m) Archery practice butts
Outdoor 14-target National Field Archery Association approved Course
Stocked Trout Pond
Indoor Pistol, Air Pistol and Archery Ranges
Members Lounge and Function Hall

In addition, club members enhance the community by supporting events for local scouting organizations, veteran's groups and other worthy civic organizations. Learn more about Riverside by attending an event open to the public, speaking to a member or viewing application details on the membership page